Safety & Security
Window & door security are very important considerations these days.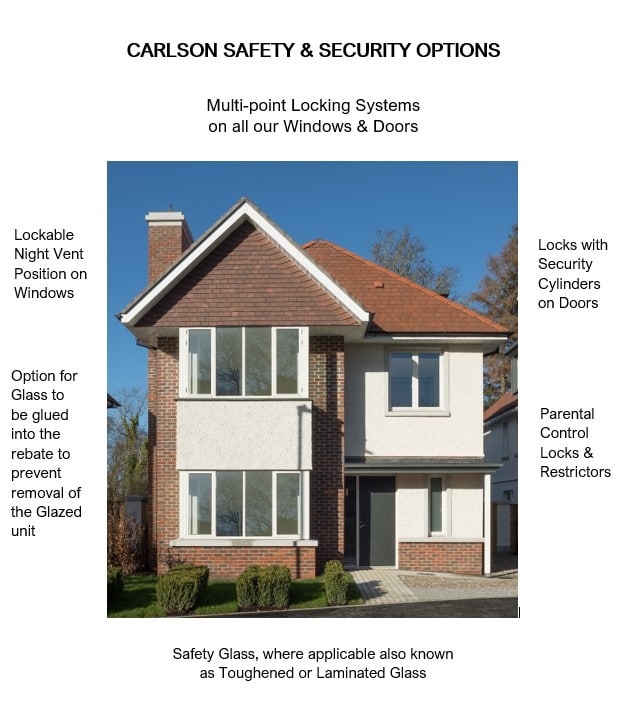 A SAFE HOME GIVES YOU SECURITY
Rest assured at Carlson we are just as concerned as you, whether its windows and doors for houses or commercial buildings, safety is of the utmost importance.
Carlson focuses on quality window and door locking systems and has developed some of the best locking and hinge security systems available.
We can also offer PAS24 options, please contact us for more information on this additional security option.
Our Safety & Security features include:
Multi point locking systems
Parental Control Locks & Restrictors
Lockable night vent positions for Window security
Security Locks for windows and doors
Safety Glass also known as Toughened or Laminated glass

Safety Glass
Safety Glass is designed to protect against both injury and burglary. There are two main types of safety glass: toughened or tempered glass and laminated glass
Toughened glass (often referred to as tempered glass) can withstand 3.5 times more weight than ordinary glass. When tempered glass breaks it shatters into thousands of tiny pieces, which is also said to reduce the risk of injury.
Laminated glass is made up of two sheets of glass held together by a flexible plastic film. The glass will break when it is overloaded, but the glass fragments remain safely held together by a plastic film. This is to reduce the risk of injury should this glass break. Laminated glass also protects from UV radiation and can reduce the risk interior materials fading.

Locking Systems
Carlson Doors come with a high performance Multi-Point Lock, as standard, to give additional Security to your home.
A multi-point locking system bolts the door into the frame and locks at multiple points at the turn of a key or thumb-turn giving a high level of security.
Multi-point systems provide a tight, weatherproof seal and are considered one of the most secure door locking systems available.

Other Safety Options
Childproof Restrictors
To provide extra Safety for young children, a Childproof Restrictor can be fitted to the bottom of the Window, which can be released when necessary.
Air Vent
Carlson Windows can be fitted with an Air Vent, which is operated by simply clicking it above and below. This provides a flow of air to ventilate a room, without opening the window.
Night Vent Position 
Carlson can also provide Windows that can be left slightly ajar. This allows air to flow into the room at night-time, without Security concerns.

Lockable & Non-Lockable Window Handles
Carlson can provide Lockable Handles, typically to Ground Floor Windows.
Or Non-Lockable Handles to Upper Floor Windows, where Fire Escape forms part of the Building Regulations

What Our Customer's Say
"We are delighted with the windows. Everyone who has seen them is very impressed with them.
From start to finish, everyone we have dealt with in Carlson has been very efficient from our first meeting with yourself to the delivery on site and installation.
For a large part of the project it was made into something very straightforward. They weren't the cheapest windows but we really feel like we got excellent value for money."
Donal

Carlson Aluclad Windows
The perfect low-maintenance choice.
Featuring the warmth of solid timber on the inside and extra protection aluminium cladding on the outside, they're long-lasting and energy efficient.